The pressure to feed your child for the first time, "correctly", is completely overwhelming. What foods do you use? Should you baby-led wean? What mixtures can you use? When do you introduce allergens? What brand is the best? Should we use organic? How many times per day and how much does your baby need to be "healthy"? Four thousand questions, and of course, no clear answers. 
As a working mom, I knew that baby-led weaning was going to be completely out of the question for my family. My husband, frank to say, is not the best eater. He is relatively picky, and I have a select set of meals I can make at home that he will eat readily. Those meals are definitely not baby-led weaning friendly, nutritionally or functionally. I send both my girls to daycare every day, and I need foods that are easily sealed, quick to recognize, and minimally choke-hazardous. I was looking for alternatives to the traditional grocery store brands that could support my busy family, nourish my children, and leave me worry-free when someone else is feeding them. As a chemist in the agriculture industry, I also am always looking for nutritionally dense, whole-food options with minimal additives, that support the industry I make my living defending. Finally, there's cost. Hello? I'm a twin mama. Everything in my life is double, so the ratio between cost and ease is a vital part of my decision making.
Enter Yumi.
Yumi is a subscription service for baby foods that focuses on fresh, nutritionist supported foods tailored to your baby's needs at various life milestones. Their menus include fruits, greens, grains, spices, fats, and legumes. Each item has at least 5 micronutrients and a balance between sugar and fiber. The menu changes weekly to make sure you are receiving all organic, non-synthetic food, ranging from smooth single ingredient purees (for the tiniest, newly eating babies, like mine!) up to finger food and multi-ingredient chunky foods. The pricing breaks down based upon how many jars you'd like in a day, and savings are applied as you order more or change to a monthly charge plan. I signed up for their email newsletter and there are offers for savings nearly every day, so you should never need to shop without a coupon code!
While Yumi sent me my first box in exchange for my review, please note that the opinions I'm sharing are entirely my own.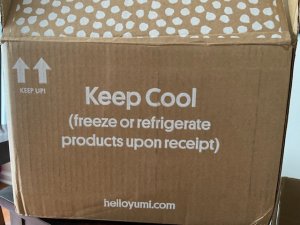 I received my shipment on a Wednesday (their typical delivery day). The bottles come shipped on ice packs, with documentation detailing all of the flavors available through Yumi so you can keep track of your baby's favorites and the nutritional information for all the recipes. Each bottle is well-labeled with the name of the recipe, an ingredient list with highlighted allergens (which for a parent of a baby with a milk allergy is huge!), and a place on the cap to mark the date it was opened. This is imperative for maintaining freshness and great for busy moms, like me, who don't have time to constantly keep track of expiration dates. I marked up all my bottles right away, sorted the ones I thought they'd like, and stored the others for another day. One other great thing about Yumi: it can be frozen! Since my babies are still slowly going through learning new foods, this is a great way to not create waste, and provide them nutrition beyond just the week you get your box! Plus, in the middle of a global pandemic, I am constantly thinking of how to stock up for my family.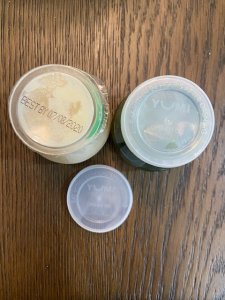 Now the flavors. From the single ingredient puree list, I received zucchini, white beans, beets, and chard. My daughters LOVED the beets and white beans. You could tell from the texture they were made from real ingredients; the beets were almost stringy and had a bit of chew to them, and the white beans had the grittiness that is typically associated with mashed beans. There are no strange colors here: this is exactly what I would expect if I had made the food myself. The zucchini looks just like blended up zoodles! I tasted all of them (I can't possibly give my girls something and NOT try it myself) and thoroughly enjoyed them; although the zucchini was a bit bland. The jars truly tasted like the actual fruit or vegetable on the package. I could tell from the baby taste testing that my daughters' prefer the heavily sweetened, extra sugar grocery-store bottles (a habit we definitely need to break), but it made me feel so much better to have them eating whole ingredients, and by the end of the week they were adapting and enjoying them! It may take some time to get them off the old stuff, but they didn't spit them out or have any side effects.
From the smooth multi-ingredient puree list, I received coconut cream pie, strawberry basil pie, apple pie, and triple berry pie. My girls really enjoyed the apple pie the most, although all were quite good. It contains apple, coconut milk, Japanese sweet potato, white beans, dates, cinnamon, and nutmeg. For reference, my daughters' have already had exposure to white beans, cinnamon, nutmeg, sweet potato, and apple, so this was the easiest transition,as you shouldn't introduce too many new ingredients at once. Since Baby K has a milk allergy, the coconut milk was a game changer for us. She loved the flavor (Baby C, not so much) and I knew it was safe for her. So many times, the presence of milk is hidden somewhere non-descript on the bottle, forcing me to spend extra time scanning (and scanning and rescanning) amongst the other additives. Who actually has the time for that?! On the Yumi bottles, the coconut milk is clearly labeled, and the coconut is then marked with an asterisk. It is incredibly detailed.
While we haven't used all of our jars yet (Chard and Strawberry Basil Pie are saved for another day), I have thoroughly enjoyed the experience with Yumi. This may not be the subscription for you if you are budget conscious (it is significantly more expensive than the clearance-level baby food jars you may find at your local grocery store) or if you have incredibly picky eaters. The mixed packages do have a lot of ingredients in one jar, so systematically introducing the individual ingredients before a mixture for allergens might not be incredibly convenient. But for me, Yumi is the perfect blend of wholesome nutrition and product-on-demand subscription that melds perfectly into my lifestyle. I'm willing to pay the price for the convenience of not going to the grocery store or making my own food from scratch. Looking over the list, I'm definitely looking forward to the next set of flavors and hope to see some more fruits in my next subscription. I'll absolutely be buying another box and am looking forward to having my girls try the chunky and finger food options!